NATURAL BATH & BODY PRODUCTS

About Dances With Bees Body Care
When we first started beekeeping in 2007, I bought a book about products from the hive.  I was fascinated to learn that the single largest user of beeswax in the world is the cosmetics industry!  I've gardened most of my life and have always had a special interest in growing and using herbs. It seemed natural to combine the products from the hive with the products from the garden into a unique Body Care line. One experiment led to another and to more research.  As with all passions, that process never ends! 
It seems that every label we see screams "ALL NATURAL" !  The truth is that while the term "Organic" is closely regulated, the term "Natural" has no regulatory definition.  In the cosmetic area, much mis-information is available about what the latest ingredient to avoid is.  Some claims are valid and some are not.  The consumer should use common sense in choosing what products to use and what to avoid.  Our mission is to use natural and naturally sourced innovative ingredients to offer quality bath and body products that are "As Natural As Possible" and safe.  Our products are free from parabens, phthalates, formaldehyde releasers, and  SLS.  We utilize several certified organic ingredients.   We search for the best quality essential oils and do not use synthetic fragrance oils in our leave-on products. Last and not least, are our hive products;  what could be more natural than honey?  Our products flow from our ethics and the environmentally responsible lifestyle which we've had before we were Dances With Bees and before being green was cool!
NEW!  CLICK ON "SHOP" TAB TO ORDER!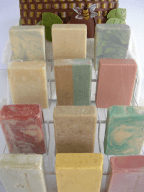 Our soap is formulated to offer a creamy long lasting lather that cleans  but does not leave skin feeling dried out.  We use luxury oils like cocoa butter and babassu and use pure essential oils.  Our honey boosts the lather and the beeswax makes a long lasting bar in the shower!
No Palm Oil
Until a system that can effectively trace palm oil to the plantation to confirm the sustainability of  the production.  We will not use Palm oil or Palm Kernel Oil in our formulations.
Ingredients: Olive oil, Water, Coconut oil, Sodium Hydroxide, Cocoa Butter, Rice Bran Oil, Babassu oil, Sodium Lactate, Beeswax, Essential Oils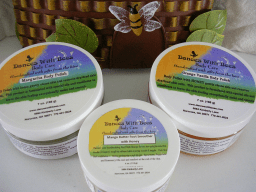 Emulsified Body Polish with  HONEY  gently cleans skin and removes dry/dead skin cells.  This product is formulated with special oils and emollients to leave the skin feeling exceptionally moist and smooth.  No stirring required; as you rinse off, the water combines with the scrub to wash off the excess oil and creates a lotion right on your skin.!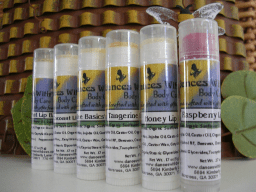 Not your usual beeswax lip balm!  Formulated with luxury oils and vegetable waxes, this balm has a nice smooth glide on application and feels creamy on the lips.  Offers long lasting moisturization in 7 flavor options.
Ingredients: Organic  Sunflower Oil, Cocoa Butter, Candelilla Wax, Jojoba Oil, Castor Oil, Organic Extra Virgin Coconut Oil, Castor Wax, Cetyl Alcohol NF, Beeswax, Caprylic/Capric/Stearic Glycerides, Tocopherol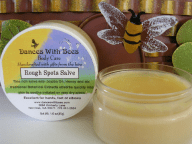 This rich salve with Jojoba Oil, Honey and six traditional Botanical Extracts absorbs quickly into skin to soothe irritated or very dry areas.  Especially nice all over dry on winter skin.
Excellent for hands, feet or elbows any time of year.
Ingredients: Jojoba Oil, Caprylic/Capric/Stearic Glycerides, Macadamia Nut Oil, Candelilla Wax, Hydrogenated Vegetable Oil, Cetyl Alcohol NF, Rice Bran Wax, Beeswax, Honey, Soy Lecithin, Tocopherol, Lavender Oil, Clary Sage Oil, Burbon Geranium Oil, Calendula Flower, Chamomile Flower, Rose Flower, White Willow Bark, Red Clover Flower, Elder Flower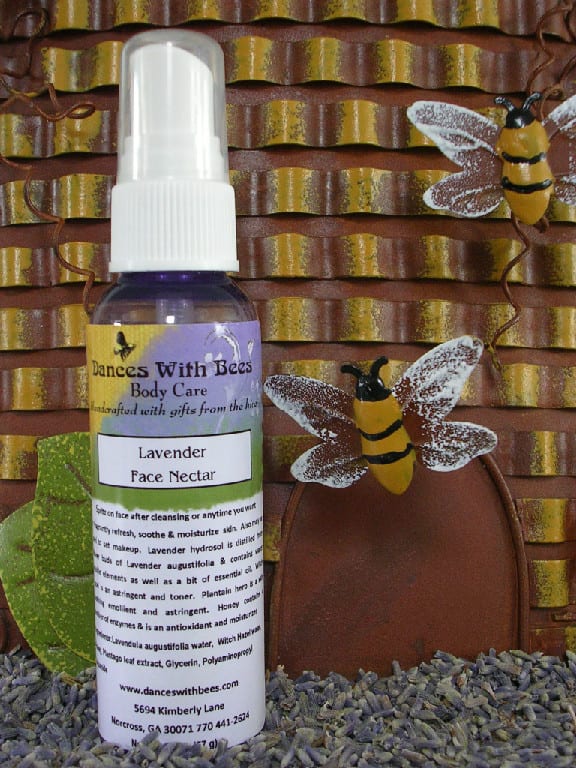 Spritz on face after cleansing or anytime you want to fragrantly refresh, soothe & moisturize  skin.  Also may be used to set makeup.  Lavender hydrosol is distilled from flower buds of Lavender augustifolia & contains water soluble elements as well as a bit of essential oil.  Witch Hazel is an astringent and toner.  Plantain herb is a skin soothing emollient and astringent.  Honey contains a number of enzymes & is an antioxidant and moisturizer
Ingredients: Lavendula augustifolia water,  Witch Hazel water,  Honey, Plantago leaf extract, Glycerin, Polyaminopropyl biguanide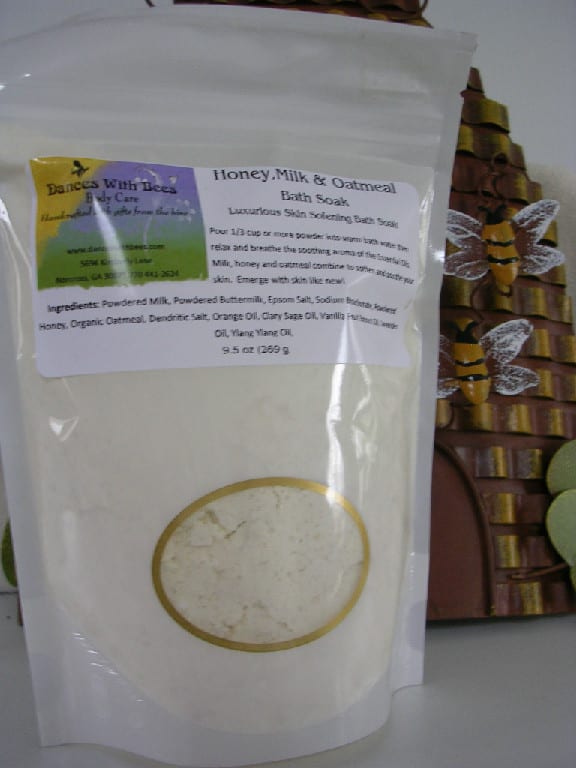 Honey, Milk and Oatmeal Bath Soak
If the Queen Bee could take time out for herself, she certainly would take a relaxing bath with this skin softening Bath Soak!
Milk, honey and oatmeal combine to soften and soothe your skin.  Emerge with skin like new!  Add  essential oil aromatherapy with Blooming Bath Oils!
Ingredients: Powdered Buttermilk,  Epsom Salt, Powdered Whole Milk,  Organic Oatmeal, Powdered Honey, Tapioca Starch